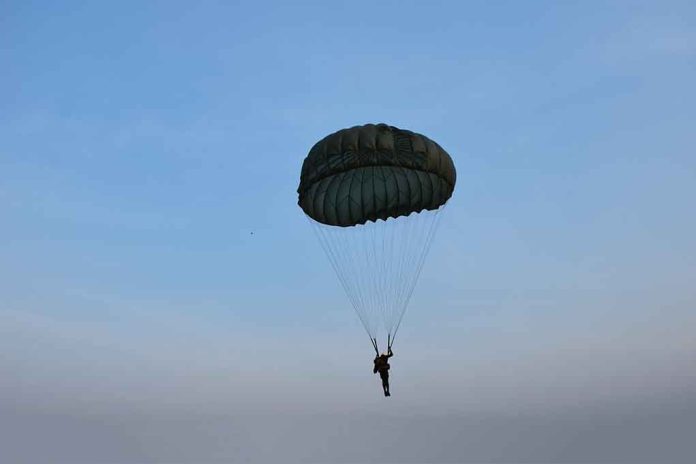 (RepublicanView.org) – A 69-year-old Frederick C. Morello of Ormand Beach was found dead in the front yard of a Florida home on Saturday, October 7.
Morello hit the ground in a neighborhood near the Skydive Space Center. It has not yet been confirmed whether Morello's incident involved the center, located in Titusville, although an employee was seen taking the parachute away.
Morello's body was discovered by James Sconier after landing in his yard. Sconier attempted to speak with Morello but did not get an answer. That's when he called the authorities.
Sconier, an Air Force veteran with experience in the airline industry, found the incident confusing. To him, it appeared that all appropriate measures were taken.
A woman claiming to be a skydiving colleague of Morello's praised him for being so safety conscious. She also called him a skilled skydiver who avoided risks and stuck to the rules.
Investigators confirmed that the veteran skydiver had all of the proper safety equipment and clothing needed for a successful jump. Surveillance video recorded from Sconier's home confirmed that Morello's parachute was open. It can be seen in the reflection of a window on his car shortly before the hard landing. Witnesses say he bounced after the initial landing.
Morello's incident comes just a week after another skydiver perished in Florida. On the morning of October 2nd, A man's parachute at Skydive DeLand malfunctioned, resulting in a hard landing. Police have not yet released the victim's identity. The facility claims to be a world-class training center for aspiring skydivers.
Skydive DeLand had one of the highest rates of failed jumps as of 2015, but it's also among the most active skydiving facilities in the world. It sometimes hosts up to 110,000 jumpers annually. The facility's popularity stems from its close proximity to Daytona Beach, where jumpers can include footage of the ocean in their videos.
When he wasn't skydiving, Morello worked in Daytona Beach as an employment attorney. He often posted pictures and videos of his jumps online.
The incident is still under investigation.
Copyright 2023, RepublicanView.org