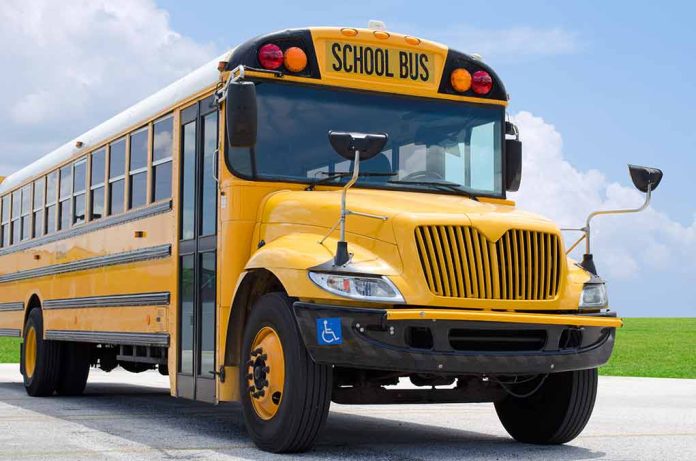 (RepublicanView.org) – A 78-year-old school bus driver struck and killed a 17-year-old teenager in Florida on Monday, October 2.
High school student Sherman Vannoy was nearing the school's entrance on his bike at around 7am Monday morning when he was hit.
Vannoy was riding his back within the lines of a crosswalk but did not have a helmet when the incident occurred. The teen was transported to South Lake Hospital for treatment, but passed before doctors could save him.
Mary Laurenzi, the elderly woman driving the bus, was attempting to pull into the school at the time of the incident. Laurenzi, who began driving for the county in 2021, is currently on administrative leave.
After hitting Vannoy, she lost control of the bus until it veered off the road before plowing through a stop sign and hitting a metal fence. Only two other passengers were on the bus at the time. None of them were harmed. Neither passenger, an 18-year-old student with learning disabilities and a 55-year-old monitor, have been identified.
Vannoy was honored by the school's football team during a game Monday. The team won the game and dedicated the feat to the memory of Vannoy. Several community members, including Erick Hernandez, a local politician, and a member of the Minneola City's council, also paid their respects on social media.
The crash is still under investigation. No charges have been filed at this time.
The Florida highway patrol had just kicked off a safety campaign for pedestrians during the beginning of National Pedestrian Safety Month. Clermont Police Chief Charles Broadway is urging motorists to exercise more caution while driving.
In 2022, Fox 4 reported that authorities said pedestrian crashes were increasing in Florida. Officials were asking pedestrians to be more vigilant when crossing or walking near streets, evenin a crosswalk. They reminded the public that an individual person is more difficult to see than a vehicle. Florida tends to have more pedestrian traffic as the air cools and snowbirds return to the state.
Copyright 2023, RepublicanView.org