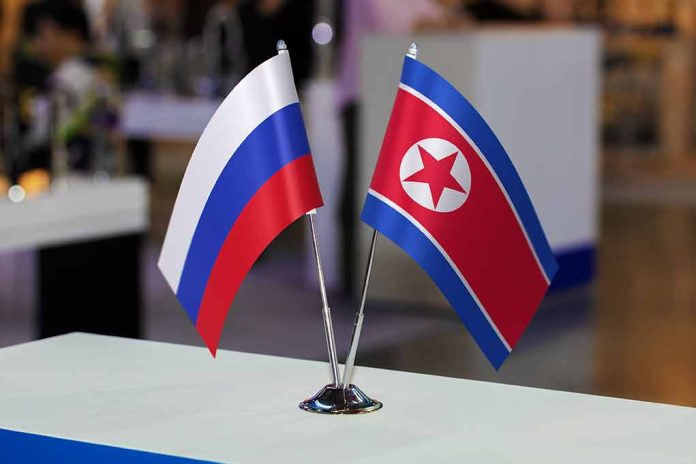 (RepublicanView.org) – The US and its allies have issued a joint statement condemning North Korea for allegedly sending munitions to Russia. US Secretary of State Antony Blinken, together with Japanese Foreign Minister Yōko Kamikawa and South Korean Foreign Minister Park Jin, said they had seen evidence of several munitions shipments to Moscow from the secretive communist state led by Kim Jong Un.
The statement read that the US and allies would continue its efforts to "expose" Russia for trying to obtain military equipment from North Korea. It reaffirms the three nations' commitment to Ukraine amid the war with Russia.
Russia and North Korea have made recent moves to strengthen their relationship. Western leaders are concerned that Kim Jong Un's support of Russia may earn him the Kremlin's help with its ambitions to enhance its nuclear capabilities.
In September, the North Korean leader traveled to the remote far eastern region of Russia to meet with President Vladimir Putin, and a Kremlin spokesperson said simply that the purpose of the meeting was "negotiations" to kickstart communication "in a one-on-one format."
Since then, the White House has said it is aware that around 1,000 containers were shipped from North Korea toward Russia, which it believes contain munitions to refill Moscow's depleting stocks. According to AP News, White House National Security Council spokesman John Kirby repeated his belief that "Pyongyang is seeking military assistance from Russia." That assistance likely includes ballistic missile production equipment, aircraft, surface-to-air missiles, and "other advanced technologies."
North Korea lashed out at the US in October, accusing it of provocation for sending an aircraft carrier to South Korea, and once again threatened the United States with nuclear annihilation. The dictator frequently refers to America as his sworn enemy and threatens to use devastating weaponry to defeat the US.
In 2018, South Korea said Kim may have had up to 60 nuclear weapons.
Copyright 2023, RepublicanView.org