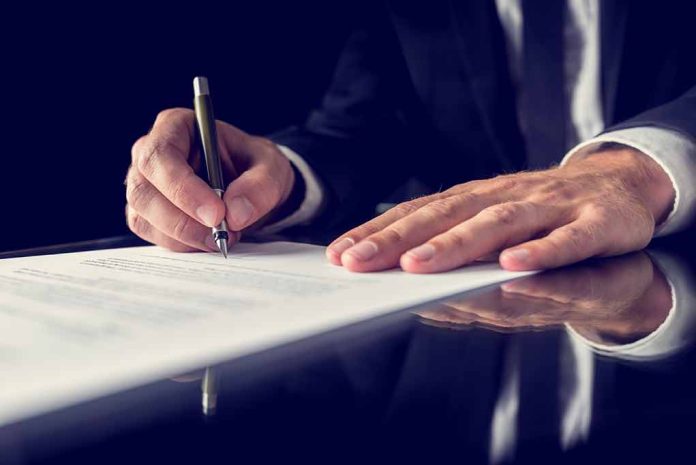 (RepublicanView.org) – The 19 Donald Trump-linked defendants charged in Fulton County, Georgia all surrendered at the Fulton County Sheriff's Office before the noon August 25 deadline for voluntary surrender, CBS News reported.
While the defendants were processed and booked, all but one were quickly released on bond agreements negotiated with the Fulton County District Attorney's Office before booking. The one defendant denied bond was former Black Voices for Trump director Harrison Floyd.
Trump and many of his alleged co-conspirators had their bonds set at five- and six-figure numbers. Trump, who is facing 13 charges in the indictment, surrendered at the Fulton County Jail on August 24 and was released on a $200,000 bond after his booking.
Former Trump attorney Rudy Giuliani, who surrendered to authorities on August 23, also faces 13 charges. He was booked and released on a $150,000 bond.
While the defendants have yet to be arraigned, the former New York City Mayor told reporters that he would plead not guilty to the charges.
Former Trump administration officials Jeffrey Clark and Mark Meadows, who surrendered last Thursday, were both released on a $100,000 bond. Other defendants had their bonds set to amounts between $10,000 and $100,000.
Defendant John Eastman, who was allegedly instrumental in hatching the fraudulent electors scheme, said in a recent statement that his attorneys plan to contest the nine charges against him and he expects to be "fully vindicated."
After his release on a $100,000 bond, Eastman told reporters that he still believes the 2020 election was "stolen."
Three of the 19 defendants have already filed motions to have their cases moved from Georgia Superior Court to federal court.
Mark Meadows and Jeffrey Clark both argued in their motions that since the charges stem from their conduct as federal officials, their cases should be heard in federal court.
The third defendant, former Georgia GOP Chair David Shafer similarly argued that since the allegations against him stem from his role as a Republican elector, he was acting under the authority of the Constitution and federal law.
Copyright 2023, RepublicanView.org