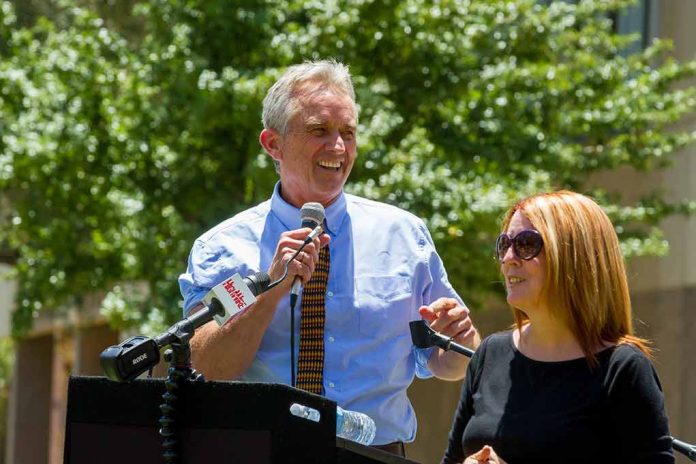 (RepublicanView.org) – Robert F. Kennedy launched his campaign for the White House on April 19th, and initial signs could worry the Biden camp. On the day of the launch, a Suffolk University/ USA Today survey of voters who backed Biden in 2020, revealed support for Kennedy at 14%. The only other declared Democratic candidate Marianne Williamson is on 5%. Significantly, 13% of voters who backed Biden in the last election now say they don't know which candidate they will support.
A separate poll, taken days earlier, placed the President at 70%, with Kennedy at 10% and Marianne Williamson at 4%.
Kennedy is the nephew of the late President John F. Kennedy, and he strikes an unusual figure among Democrats because he is openly critical of the approach of world governments to the coronavirus pandemic, and questions the efficacy of vaccines. As a result, the press has dubbed him an "anti-vaxxer."
Kennedy formally launched his campaign in Boston. He spoke of the revolutionary roots of the city and said Americans were in a battle comparable to the war against England for the country's independence. Americans are at war with corrupt corporations, he claimed.
"My mission over the next 18 months of this campaign, and…throughout my presidency, will be to end the corrupt merger of state and corporate power that is threatening now to impose a new kind of corporate feudalism on our country," Kennedy told his audience.
His condemnation of the nation's reaction to the coronavirus could make him a figure of suspicion among the reporters of the mainstream media. The New York Times has already labeled him a figure that causes "anguish" due to his position on the vaccine. He is banned from social media platforms, including YouTube and Instagram.
Kennedy is also a strong critic of large pharmaceutical companies and has penned a book on Anthony Fauci, whom he describes as "America's Doctor." He said Fauci partnered with Big Pharma to "sabotage safe and effective" treatment for AIDS.
Copyright 2023, RepublicanView.org