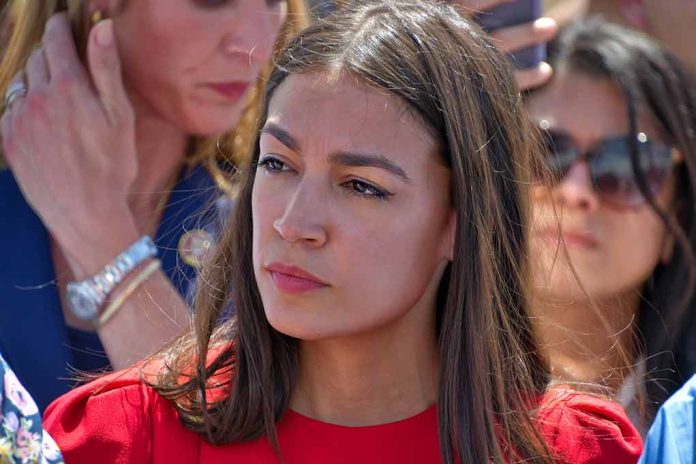 (RepublicanView.org) – Protestors shouted "Close the border" at a press conference featuring New York Rep. Alexandria Ocasio-Cortez and fellow Democrats on Friday, September 15. Ocasio-Cortez and members of the Congressional Hispanic Caucus were visiting emergency shelters in Manhattan when the chaos unfolded. Speaking to reporters outside the Roosevelt Hotel, the Democrats were drowned out by constituents demanding change.
According to The New York Post, Queens City Council candidate Jonathan Rinaldi yelled, "Send them back," while a local man shouted, "Close the border, close the border. Respect the constitution AOC. I am your constituent."
Echoing the calls of New York City Mayor Eric Adams, Ocasio-Cortez said that more resources are needed for towns and cities struggling with ever-growing migrant numbers. She called on the federal government to provide more assistance, open legal immigration routes, and allow migrants to work.
At a recent town hall meeting, Mayor Adams lashed out at the Biden administration for not helping more and said that the 10,000 migrants arriving in the Big Apple every month will "destroy" the city. Former New York Governor Andrew Cuomo added his voice to the growing crisis and warned Democrats that they could face punishment at the ballot box.
During a speech at the Thomas Jefferson Democratic Club on September 14, Cuomo also blamed the White House and said it was ludicrous that the Governor of Texas can determine where to send illegal migrants. Texas Governor Greg Abbott has bussed thousands of people to New York in recognition of its self-declared "sanctuary" status. Cuomo added that Donald Trump can now say, "I told you so."
More than 100,000 illegal immigrants have reached New York since Spring of 2022, according to NBC News. Homeless shelters and several hotels are full, and migrants are sleeping on streets and subways.
Copyright 2023, RepublicanView.org