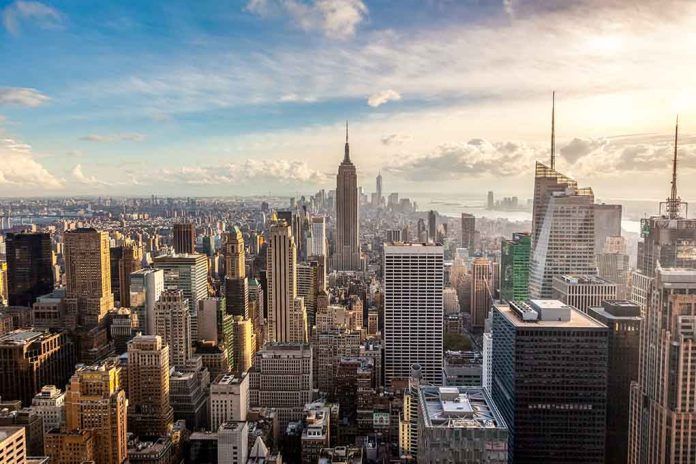 (RepublicanView.org) – The college professor at the center of a pro-life storm allegedly held a machete to the neck of a reporter covering the story. Shellyne Rodriguez, a Hunter College professor at the City University of New York (CUNY), answered her door to New York Post reporter Reuven Fenton on May 23rd and threatened him with the machete. She said she would "chop" him up if he didn't leave her door.
The incident was captured on film by a New York Post photographer.
Rodriguez hit the headlines in mid-May when she attacked a pro-life stall on the university campus. Members of Students for Life of America were handing out pro-life literature on campus when the professor swore at them and accused them of "triggering" students. She then swept the literature off their table.
The pro-life volunteers said they were also subjected to abuse from fellow students, one of whom took a fetus model from their stall, broke it, and returned it. They were labeled "far right" extremists on social media.
City University of New York officials confirm that Shellyne Rodriguez is no longer employed there. "Hunter College strongly condemns the unacceptable actions of Shellyne Rodriguez and has taken immediate action. Rodriguez has been relieved of her duties," a statement read.
The incident occurred only days after Michigan State University (MSU) refunded $99 to students who were signed up to a pro-abortion organization by their professor. The radical left-wing educator was a member of a group called "The Rebellion," which aims to burn American society to the ground. Amy Wisner forced her students to join the organization that proudly boasts that all membership fees are donated to the pro-abortion Planned Parenthood.
MSU apologized to students and said it took the matter very seriously. Wisman was removed from duty and no longer appears on the roll of professors at the college. MSU students Nathan Barbieri and Nolan Radomski have filed a lawsuit against the professor.
Copyright 2023, RepublicanView.org