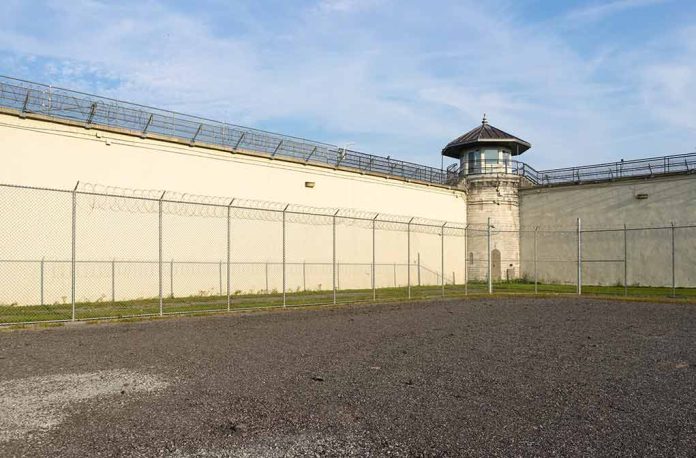 (RepublicanView.org) – A correctional officer in South Georgia was killed by an inmate Sunday while the officer was leading two inmates back to their cells.
42-year-old Robert Clark, who began his tenure at Smith State Prison earlier this year, suffered significant injuries after he was allegedly attacked by an inmate named Layton Kiev Lester. Reports indicate that Lester used a weapon that he made himself.
Clark was escorting Lester and another inmate, Marko Willingham, from the mess hall. Willingham was also injured after he attempted to stop Lester. He is currently hospitalized and expected to recover.
Lester was serving time for armed robbery and murder that both occurred in Tifton, GA, in 2007. He was found guilty of murdering his great-aunt in an attempt to steal a large sum of money she had recently received. He was 15 at the time of his arrest.
Lester was tried as an adult and is serving a life sentence for the murder. He was also sentenced to 20 years for burglary and 20 more for armed robbery.
Lester attempted to have his charges dropped in 2020. He claimed that officers shouldn't have used the conversations he had with them during his court hearings. Police famously warn suspects facing arrest that their statements can be used against them in the court of law. Additionally, he argued that the presence of an alternate juror was grounds to have his charges dismissed.
His case made it to the Georgia Supreme Court, where it was ultimately overruled. He will face additional charges for the attacks against Clark and Willingham.
Smith State Prison has been the subject of numerous controversial violent outbreaks. Clark's death marked the sixth homicide at the prison just this year. Another inmate was previously knocked unconscious during a gang attack.
The Human and Civil Rights Coalition of Georgia used the incident to schedule a rally at the governor's mansion using the mantra "Inmate Lives Matter." They claim that rights are being violated and this and other correctional facilities in Georgia.
Copyright 2023, RepublicanView.org