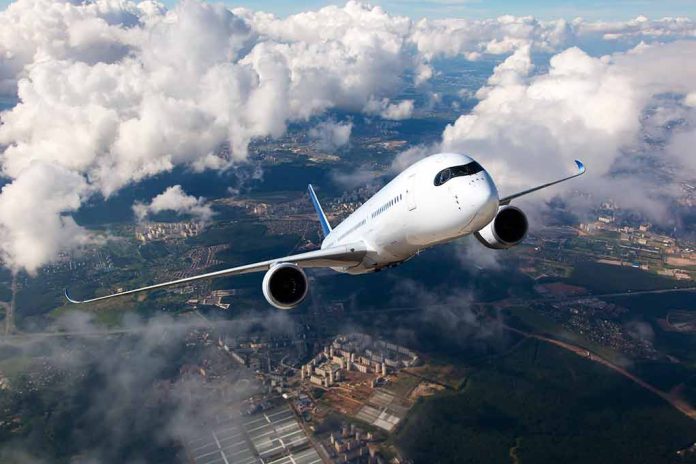 (RepublicanView.org) – An off-duty pilot was subdued by colleagues when he allegedly tried to shut down the plane's engines in mid-air. The San Francisco-bound flight took off from Everett, Washington, on October 21, with Joseph David Emerson riding in the extra cockpit seat. Reports suggest Mr. Emerson tried to shut down the plane but was physically prevented from doing so by the pilot and co-pilot, who then re-routed the aircraft to Portland, Oregon.
Officers from the Multnomah County Sheriff's Office were waiting for the plane when it landed in Portland, and Emerson was immediately arrested. Federal prosecutors charged him with 83 counts of attempted murder, one count of reckless endangerment, and one count of endangering an aircraft. The Horizon Air flight was undamaged, and there were no reported injuries. Alaska Airlines, which owns Horizon, did not comment on Mr. Emerson but did acknowledge that one of their off-duty pilots was responsible.
FBI agents later told reporters in Oregon that Emerson said was depressed and that he'd taken magic mushrooms two days before the flight. According to Emerson, he was sleep deprived and thought he was experiencing a nervous breakdown.
Alaska Airlines said there had been no signs that Mr. Emerson was under the influence of drugs, and none of its staff members noticed anything unusual about his temperament or demeanor.
The criminal affidavit describes Emerson sitting in a seat reserved for pilots hitching a ride back home, which is standard procedure. He allegedly attempted to disable the engines by trying to activate the aircraft's fire suppression system. The pilots said he was friendly and unremarkable until he suddenly said, "I'm not okay," and grabbed the lever of the fire suppression system before being yanked away and subdued.
Pulling the fire suppression handles will temporarily shut down an aircraft's engines. The Federal Aviation Administration said it has never encountered an incident where any person on an aircraft deliberately attempted to shut down the engines in this way.
Copyright 2023, RepublicanView.org