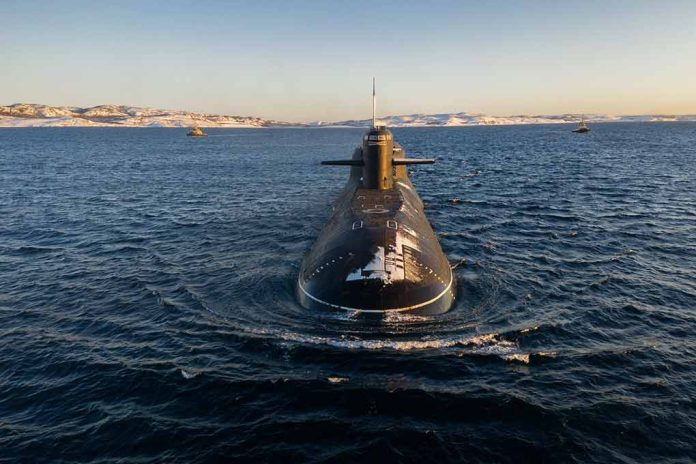 (RepublicanView.org) – The United States military has deployed an Ohio-class submarine to the Middle East as tensions continue to rise between Israel and Hamas.
The nuclear-powered vessel will help boost the military's naval presence in the region. It will join the United States Central Command (CENTCOM) with responsibility for military missions in the Middle East. CENTCOM is also responsible for other parts of Central and Southern Asia. The vessel's name has not been released.
CENTCOM published a post on X (a rare move for the agency) showing a photo of the vessel traversing the Suez Canal as it approaches its area of responsibility. Ohio-class submarines (named after their lead vessel) hold a significant payload in their arsenal.
The Sacramento Bee reported that according to manufacturer General Dynamics Electric Boat, Ohio-class vessels are some of the most powerful. The class of submarines is designed for extended missions and typically they tour for up to 3 months before undergoing maintenance. They also have stealth technologies.
The announcement of its location is an unusual move for CENTCOM. Ohio-class submarine missions and locations are often kept secret. However, experts believe the public announcement was intended to dissuade hostile nations from taking action.
The announcement about the nuclear-powered submarine comes just days after the US deployed two aircraft carriers to the Mediterranean Sea. They spent 3 days conducting exercises in the region. Italian frigates also participated in the exercises.
The US military initially responded to the surprise attack against Israel by sending the Gerald R. Ford carrier strike group to the region just days after. Officials called it a warning to any group (whether part of a government or terrorist organization) that intended to harm Israel. They specifically mentioned preventing an attack from Hezbollah and other hostile nations in the region.
The United Kingdom also sent ships to the region shortly after the attack. They are patrolling the region for terrorist activities.
Israeli forces are squaring off against several additional terror groups as their attacks penetrate farther into Gaza. While the groups have ideological differences, they all share the goal of opposing Israel and building an Islamic state for Palestine.
Copyright 2023, RepublicanView.org