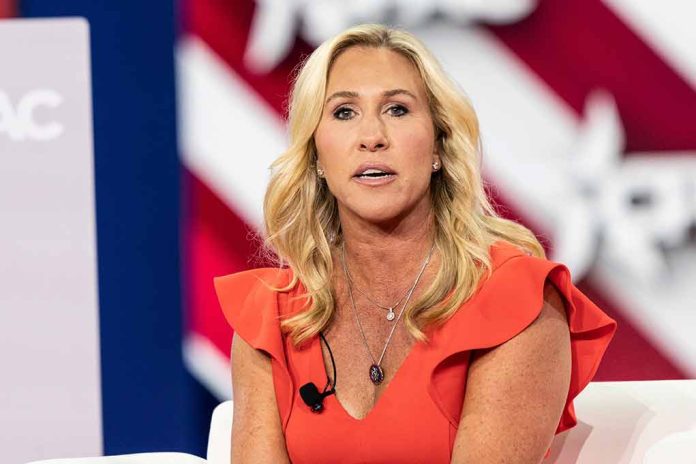 (RepublicanView.org) – Republican Rep. Marjorie Taylor Greene claimed attendees at the Burning Man event in Nevada were likely being "brainwashed" into believing that climate change is "the root of all evil and it's going to destroy the earth." Speaking to Alex Jones on his Infowars podcast, Greene claimed the flooding at the event was God's way of making himself known.
The Burning Man event has been held in Nevada since 1986 and describes itself as "a global ecosystem" of talented individuals who "create art, events, and local initiatives" throughout the world. Attendees burn a large wooden structure known as "the Man" on the final night, but this year, the festival was rained out, and the burning couldn't take place.
Celebrations were disrupted when over half an inch of rain fell in one day. Meteorologist Mark Deutschendorf said this exceeds the 0.21 inches that could be expected for the entirety of September. "Everywhere from Reno up to the Burning Man area, Black Rock, we've already exceeded that," he said.
A man in his forties died at this year's event, but the cause is unknown, and festival organizers said it was unrelated to the weather.
Thousands were stranded at the festival, which Taylor Greene said would allow climate change activists to "brainwash" them with fears that they would take away and share with others.
Climate change has been an ongoing point of division within the public. Coverage was worldwide back in 2019 when Swedish activist Greta Thunberg made her famous "How dare you?" speech at the United Nations, where she slammed leaders for their failure to act on climate change. On the flip side, a letter to the UN from a group of 500 scientists, academics, and other professionals asserted there was no climate crisis.
US Presidential candidate Vivek Ramaswamy described the climate change agenda as a "hoax" during the first GOP debate.
Copyright 2023, RepublicanView.org