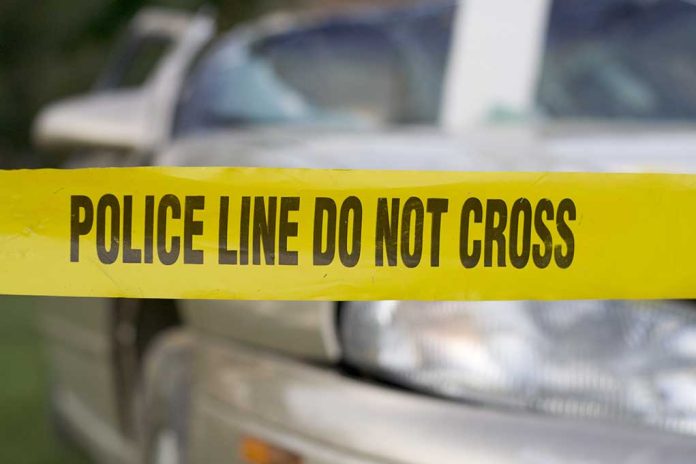 (RepublicanView.org) – A California police officer who survived the mass shooting on the Las Vegas strip in 2017 has died in a traffic accident near Los Angeles. Manhattan Beach Police Officer Chad Swanson was killed when his motorcycle collided with a car on Interstate 405 near Carson, California, on the early morning of October 3. Fellow officer Steve Carapia said initial investigations suggest that a vehicle struck Mr. Swanson's bike while making "an unsafe lane change."
It's been reported that four cars were involved in the crash, and a third party suffered injuries and was taken to hospital.
Mr. Swanson, who was 35, was married and had three sons. His wife Hailey posted a message on Instagram thanking people for their support, and police officers made a heartwarming gesture with a procession along southern California freeways. Manhattan Beach Police Lt. Kelly Benjamin said during a press conference, "We're hurting, we're grieving." She described how Swanson loved his bikes, had an infectious smile, and was a joy to work with. "Most importantly, he loved his wife and three boys," the Lt. added.
The 13-year police veteran was hailed as a hero during the Las Vegas shooting in 2017 for helping other victims even though he was shot in the arm. Swanson and police colleagues attended the music festival in Vegas, and witnesses later recounted how he ran toward the crowd when the sound of shooting began. "I just wanted to try to help as many people as I could," he later told reporters.
His friend and colleague Rachel Parker, a records technician for Manhattan Beach Police, was killed by mass murderer Stephen Paddock during the shooting, which took place at a Jason Aldean concert on the strip.
Helping victims of the Las Vegas slaughter was not Chad Swanson's sole act of heroism. In 2016, he and three colleagues were awarded the Life Saving Award at a Medal of Valor Ceremony, having saved the life of a suspect bleeding from a self-inflicted wound.
Copyright 2023, RepublicanView.org