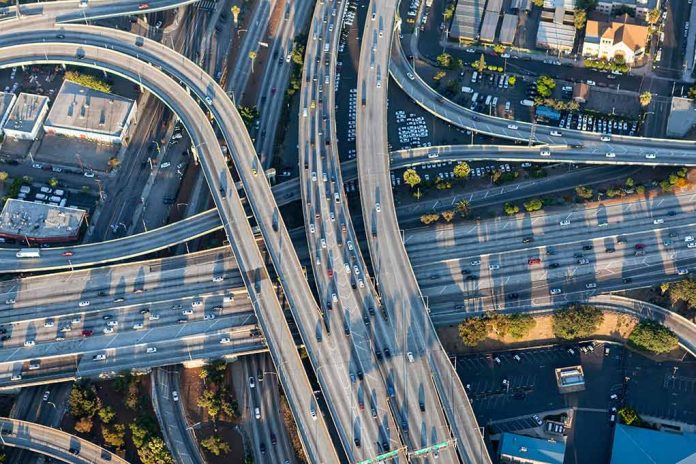 (RepublicanView.org) – A massive fire that forced one of the busiest stretches of I-10 to close in Los Angeles, CA, was discovered to have been set intentionally.
Daniel Berlant, California's State Fire Marshal, made the announcement Monday, November 13, alongside Governor Gavin Newsom during a press conference. They are now asking the public for information that may lead to the conviction of those responsible. He did not discuss how the fire started or how they determined that it was intentional.
However, the fire did spread from storage yards that contained massive wooden pallets, which are believed to have fueled the fire. A total of 164 firefighters spent hours extinguishing the blaze.
Over 300,000 commuters use the stretch of highway, or Santa Monica Freeway, every day. It was the busiest thoroughfare in a city that's already known for its daily gridlocks.
The ensuing surface street congestion has become so heavy that emergency vehicles are often unable to respond to calls. Officials are urging commuters to avoid surface streets, although they are left with few options. Mayor Karen Bass urged locals to carpool or use public transit. She also encouraged drivers to avoid road rage.
Authorities initially declared the stretch of road to be closed indefinitely after concerns that it may have been beyond repair. However, officials indicated that it would be repaired within five weeks after samples confirmed that much of the existing infrastructure would not have to be demolished.
Newsom declared a state of emergency in the area on November 10. He expressed hope it would help expedite repairs after promising locals that it would be open as soon as possible. It was reported on Thursday that repairs have gone faster than expected and that Newsom expects the stretch to reopen on November 21.
The incident has drawn several comparisons to the Northridge earthquake that destroyed several freeway segments in and near Los Angeles. The destruction led to unprecedented traffic jams.
Copyright 2023, RepublicanView.org