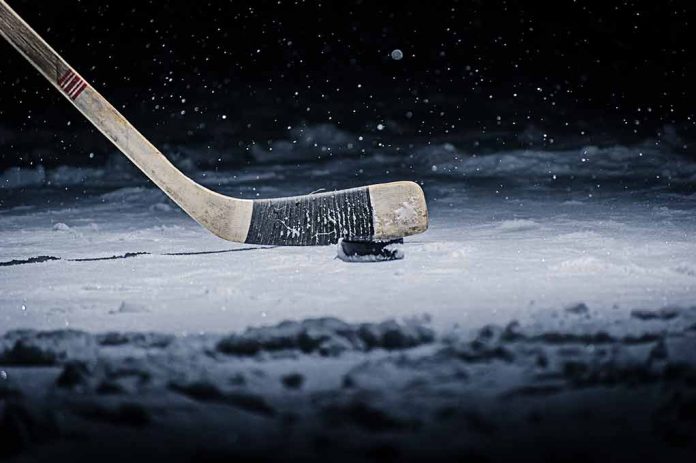 (RepublicanView.org) – Pro hockey player Adam Johnson has died after a horrific incident during a game in England. Johnson was playing for the Nottingham Panthers in the nearby city of Sheffield when an opposing player struck him in the neck with his blade. His death was announced hours later. He was 29 years old.
Johnson was a native of Minnesota and began his career as a junior in the United States Hockey League before later playing at college level for the University of Minnesota. He would rise to become the second-highest scorer in the American Hockey League in the 2017 to 2018 season while playing for the Scranton Penguins. He made his National Hockey League (NHL) debut for the Pittsburgh Penguins in 2019 and performed with that team until 2020.
Mr. Johnson's horrific injury occurred in full view of an audience, and video clips soon made their way to social media. Recordings show Sheffield Steelers player Matt Petgrave colliding with Johnson, who was playing for the Nottingham Panthers, while Petgrave's foot was raised, resulting in the impact with Johnson's neck. Several posters on social media suggested that Petgrave's actions were deliberate, with some calling it "murder."
Former Canadian hockey star Sean Avery claimed Petgrave's kick to Johnson's throat looked deliberate but not necessarily with the intent to kill him. Speaking to Fox host Jesse Watters, Avery refused to call the death a homicide but said Petgrave's foot should not have been where it was. Chris Therien, a former pro player from Canada, called for the postponement of games until the death was thoroughly investigated.
The Panthers, however, referred to the incident as a "freak accident," when addressing Johnson's death. Westin Michaud, who was playing for Johnson's team, took to X on October 30 to denounce the Internet for its treatment of Petgrave, saying he was sitting nearby when the incident occurred and that what happened was completely unintentional.
Police released an online statement revealing that while investigators have departed the scene, due to the "complex nature" of the horrifying incident, the investigation would likely last for some time. They asked the public to stay away from speculation during the ongoing probe.
Copyright 2023, RepublicanView.org