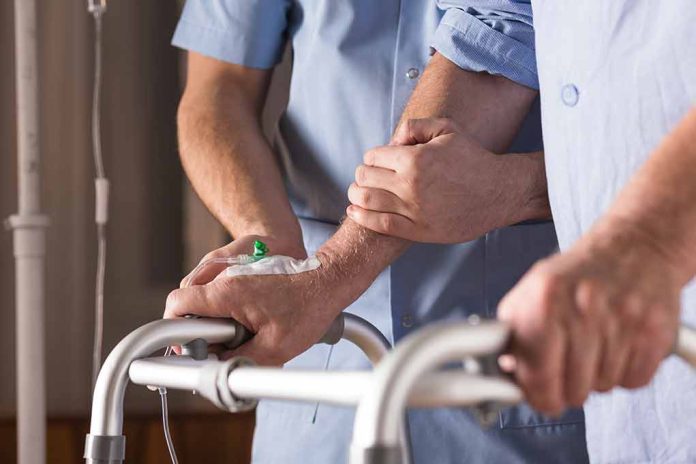 (RepublicanView.org) – The Ohio Supreme Court upheld a decision to jail a nurse for 65 years for stealing from patients. Susan Gwynne pleaded guilty to 46 charges in 2016, including theft, burglary, and receiving stolen property, and was handed the hefty sentence that her lawyers would later appeal.
Gwynne began working as a nurse's aide at assisted facilities and nursing homes in 2004. She had developed a cocaine addiction, however, and admits to stealing from elderly patients to fund her habit. When she was fired, she used her nurse's uniform to gain access to institutions in Delaware County and Franklin County, and when police searched her home, they found more than 3,000 stolen items.
In deciding to keep Gwynne in prison for 65 years, the Ohio Supreme Court overturned a decision in a case with a long history of sentencing twists and turns.
In 2016, the court initially imposed consecutive sentences that amounted to 65 years, but on appeal, the Fifth District Court of Appeals overturned that sentence, stating that her age and the non-violent nature of her offenses were insufficiently accounted for. The court decided upon a 15-year sentence instead.
The Ohio Supreme Court told the Appeals Court to rethink that ruling in 2019. Upon reconsideration, the Appeals Court determined it did not have the authority to alter Gwynne's sentence, and so the 65-year term remained. The Supreme Court disagreed and said the appellate court did have the power required and sent the case back to the Fifth District Court of Appeals.
A month later, the Supreme Court ruled that its decision to send the matter back to the Appeals Court was wrong, and finally settled the case; the sentencing was correct, and the 65-year term would stand. Chief Justice Sharon Kennedy said Gywnne's crimes were serious because they "deprived victims of their sense of security."
Ohio Supreme Court Justice Michael Donnelly said the case demonstrates the need for a sentencing overhaul in the Buckeye State.
Copyright 2023, RepublicanView.org