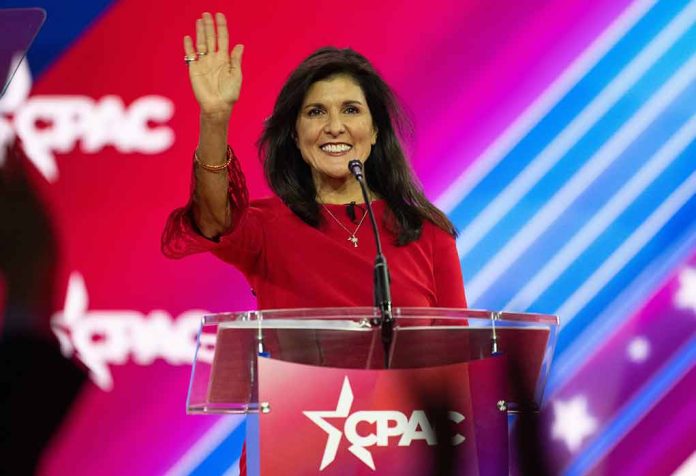 (RepublicanView.org) –  Presidential candidate Nikki Haley took a swipe at fellow Republican Ron DeSantis by inviting Disney to relocate to her home state South Carolina. The Florida Governor is involved in a long-running feud with Disney that has heated up recently. Using the nickname Donald Trump has given to the Floridian, Haley wrote, "Disney, my home state will happily accept your 70,000+ jobs if you want to leave Florida. We've got great weather, great people, and it's always a great day in South Carolina! SC's not woke, but we're not sanctimonious about it either."
The feud between DeSantis and the entertainment giant began when the Governor signed the so-called Don't Say Gay laws. The Parental Rights in Education Act prevents educators from discussing adult issues, such as transgenderism, with young children. Disney bizarrely responded by stating that fighting the laws would become a primary policy of the company.
DeSantis retaliated by ending the self-governing status Disney has enjoyed for decades.
The row escalated recently when Disney filed a lawsuit against the DeSantis administration, arguing that the State's oversight board, hand-chosen by DeSantis, unlawfully voided agreements between the two parties and that targeted legislation resulting from the expressed political view of the company violated its First Amendment rights.
Haley's jab points to an escalation of infighting among Republicans, with DeSantis on the receiving end. Trump accuses DeSantis of disloyalty and has attacked him as "Ron DeSanctimonious" for months. The former President said DeSantis is a RINO (Republican in Name Only) and a globalist.
DeSantis remains the second-place choice for most Republicans, but his support has dwindled. Recent polls put him 37% behind front-runner Trump. He has not yet declared his intention to stand for the White House in 2024, and when asked about his falling support during a trip to Japan, he answered, "I'm not a candidate, we'll see when and if that changes."
Former South Carolina Governor Haley is currently polling at around 7%.
Copyright 2023, RepublicanView.org