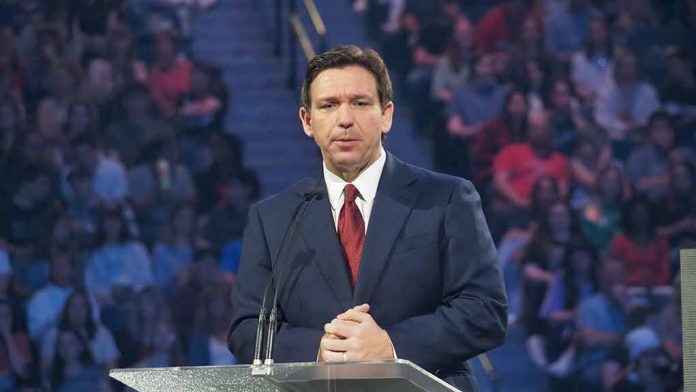 (RepublicanView.org) – Ron DeSantis says he will introduce widespread immigration reforms if elected to the White House next year. This would include ending the automatic right to citizenship for children born in America to illegal immigrants. On June 26, the Florida Governor told reporters in Eagle Pass, Texas about this plan.
The Presidential hopeful went on to say that the prospect of US citizenship for the children of illegal immigrants is driving and maintaining unlawful migration. Many of his immigration plans mirror those of former President and current Republican candidate Donald Trump.
DeSantis said people in Washington complain and complain but rarely get anything done. "We don't want hollow rhetoric," he said, according to The Washington Post. DeSantis unveiled the campaign slogan, Build The Wall, No Excuses, in an effort to push his plan.
Mexican drug cartels are also on the Governor's radar. In his first major policy announcement, DeSantis said people smuggling drugs, including the lethal Fentanyl, could end up "stone-cold dead." He likened illegal immigration to home invasion.
Opening his policy announcements with immigration will likely appeal to the conservative branch of the GOP, but it is also prompting criticisms from the left and human rights organizations. The pro-immigrant group America's Voice has already condemned the Floridian for echoing "white supremacy."
Trump responded to DeSantis' border visit on his Truth Social account. He said the Governor had copied his policies and told readers that he turned up at Eagle Pass with no "crowd or excitement." The former President called DeSantis' trip to the southern border a total waste of time.
Copyright 2023, RepublicanView.org