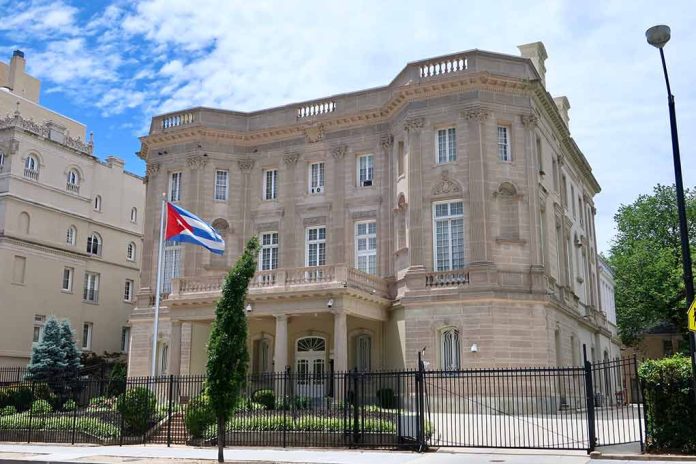 (RepublicanView.org) – Cuba has denounced an assault on its Washington, DC, embassy as a "terrorist attack." The incident occurred on September 24 when an unidentified man allegedly threw Molotov cocktails at the building. On social media, Cuban President Miguel Díaz-Canel Bermúdez called it an "act of violence and impotence that could have cost valuable lives. We denounce it and await action from the North American authorities."
State Department spokesman Matthew Miller likewise condemned the action and said American officials were in touch with Cuba and were committed to the safety and security of all its US-based personnel.
The US Secret Service is leading the investigation into two devices, described as Molotov cocktails but unexploded, that were discovered near the building. US authorities accessed the embassy to take samples from the devices, and investigations are ongoing.
Protests have taken place outside the Cuban embassy for years and have caused diplomatic tensions with the US. Back in 2021, thousands of US-based Cubans and their supporters marched to Washington, DC, to denounce communism and accuse President Biden of endorsing the totalitarian system. Crowds chanted, "Libertad," and "Where is Biden?"
Biden had imposed sanctions on the island's government weeks earlier, but protestors said these were merely window dressing and would have little impact. The President said his administration would continue to support freedom fighters in Cuba and was committed to restoring internet access on the island, circumventing government restrictions, as well as providing necessities directly to citizens.
The sanctions were implemented just as the Cuban communist leadership cracked down on protestors who staged two days of open defiance on the streets of the capital, Havana. Around 100 people were detained, others were beaten, and dozens went into hiding, according to the legal support group Cubalex. Thousands of Cubans in Miami and other US cities turned out in support of their compatriots days later.
Protestors were angry at shortages of food, electricity, and medicines. The Cuban government condemned them as "mercenaries."
Copyright 2023, RepublicanView.org