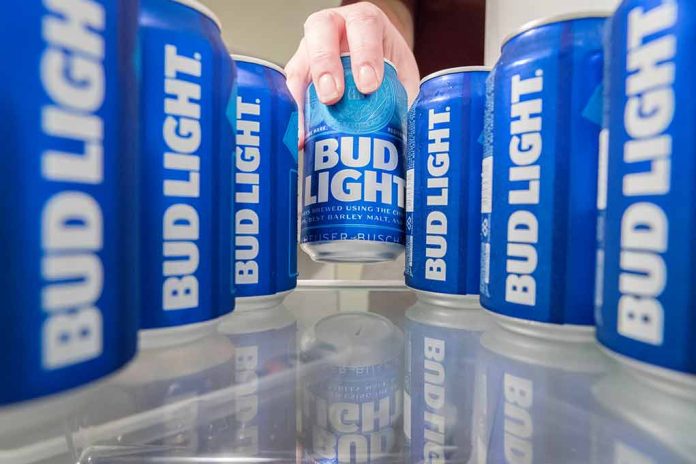 (RepublicanView.org) – Another advert from Bud Light was met with ridicule on social media as the beer's fortunes continue to spiral downward. The latest ad features Kansas City Chiefs star Travis Kelce but was labeled desperate by some critics. The short clip contains a group of men sitting and grunting with beer. According to a Fox News report, one social media user wrote that Bud Light was headed for the "death blow," and that they think their clients are "stupid grunting cavemen."
When Bud Light first brought transgender influencer Dylan Mulvaney on board, Alissa Heinerscheid, the marketing executive responsible for the decision, said she wanted to change the beer's image away from one of frat boys. "Bud Light had been kind of a brand of fratty, kind of out-of-touch humor, and it was really important that we had another approach," she said.
Some of the commentators on the recent ad suggested that Anheuser-Busch, which owns Bud Light, was attempting to return to that same image. One person mocked the ad, quipping that "fratty" and "out-of-touch" was "back in style." Another called the company "desperate" due to a decreased demand for beer.
Bud Light's financial situation continues to deteriorate as lost sales hit a high of 31%. Bottling plants have also been forced to close, putting hundreds out of work — which is believed to be because of falling Bud Light sales. The Ardagh Group, which contracts with Bud Light, announced it is closing plants in Louisiana and North Carolina at the cost of 645 jobs. No official reason was given for the closures but workers say there has been a notable difference in production since the situation with Bud Light and Dylan Mylvaney exploded.
Mulvaney is a transgender individual who documented her transition on TikTok. At one point, Mulvaney was invited to the White House to discuss transgender rights with President Joe Biden. Contracts with other major companies, including Nike, led to similar calls for boycotts from some women and conservatives. Nike hired Mulvaney to advertise a line of women's sportswear, a move described as a "kick in the teeth" by British Olympic swimming champion Sharron Davies.
Copyright 2023, RepublicanView.org