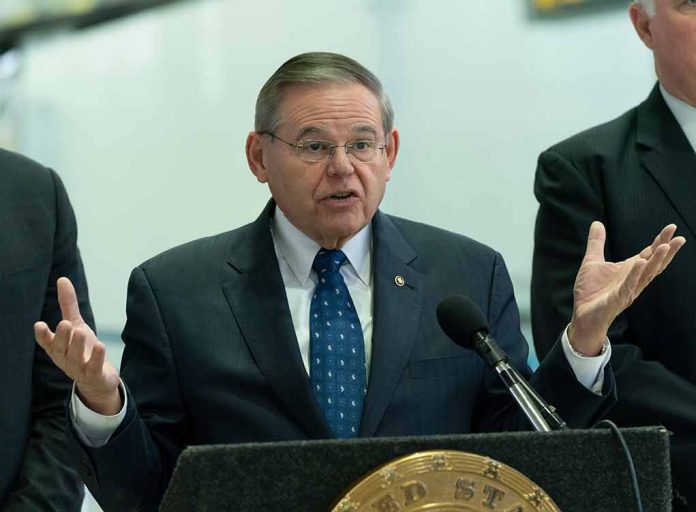 (RepublicanView.org) – Prosecutors have filed a new charge against Democratic Senator Bob Menendez and accused him of unlawfully acting as an agent of a foreign principal. The new charge will be added to an indictment against the Senator accusing him of corruption and bribery connected to business dealings going back years.
In September, a federal grand jury returned an indictment that accused the Congressman of receiving cash payments in exchange for using his influence in favor of businessmen Wael Hana, Jose Uribe, and Fred Daide. Mr. Menendez's wife, Nadine Arslanian, was also indicted as the couple allegedly accepted "cash, gold, payments toward a home mortgage, compensation for a low-or-no-show job, a luxury vehicle, and other things of value" for aiding the businessmen.
In 2022, federal agents searched the home of the New Jersey Senator and found more than $480,000 cash, much of it stored in cardboard boxes and envelopes, as well as another $70,000 inside Arslanian's safety deposit box. Over $100,000 worth of gold bars were also discovered.
The Senator is furthermore accused of providing sensitive information to the government of Egypt and "improperly" advising an agricultural official to permit a New Jersey businessman to act as the exclusive purveyor of Halal meats to Egypt. According to the new charge, Menendez allegedly acted against the Foreign Agents Registration Act by working as a foreign agent for Egypt.
Despite numerous calls for his resignation, Menendez has insisted he will not stand down. Addressing fellow Democrats at a meeting in September, he said, "I will continue to cast votes on behalf of the people of New Jersey as I have for 18 years."
High-profile Congress Members who have called for his resignation include former House Speaker Nancy Pelosi, Minority Leader Hakeem Jeffries, and Senator John Fetterman.
Copyright 2023, RepublicanView.org