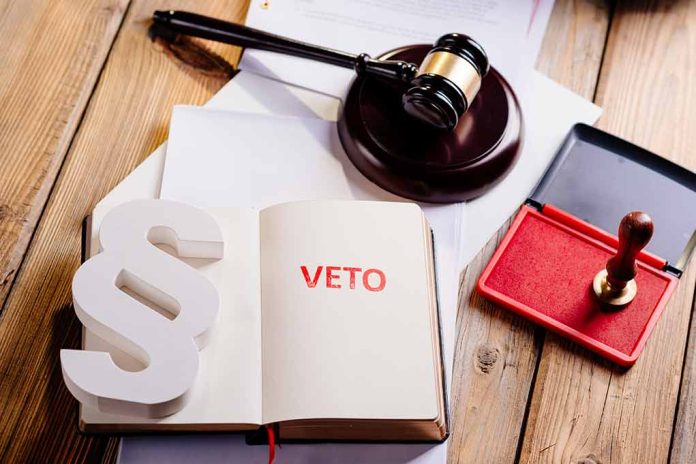 (Republicanview.org) – On Tuesday, June 13, the Republican-controlled House passed a resolution revoking the ATF's new rule on pistol braces, but President Biden has already vowed to veto the measure, the Associated Press reported.
The resolution, introduced by Georgia Republican Rep. Andrew Clyde and North Carolina Republican Richard Hudson in March, passed 219 to 210, with two Democrats voting in favor of the resolution and two Republicans voting against it.
It's expected to go to the Senate next, but it's still unclear when that vote will take place.
The day before the House vote, the White House revealed that Biden would issue a veto and shoot down the resolution, the Washington Examiner reported.
In January, the ATF issued its final ruling redefining pistol braces and other accessories as short-barreled rifles, which require a federal license. The rule, which took effect earlier this month, requires those owning a gun with stabilizing brace to register the weapon with the ATF for a fee, or to remove the brace from the gun.
House Republicans argue that the rule would impose a $10,000 fine and 10 years in jail to law-abiding gun owners if they fail to turn over their firearms to the ATF.
The resolution invokes the Congressional Review Act, a law that permits Congress to revoke recently-enacted regulations and executive actions. Such resolutions only require a simple majority to pass.
It is unlikely that the resolution will clear the Democrat-controlled Senate.
However, in a statement on Monday, the White House Office of Management and Budget (OMB) said that if the measure passes the Senate, President Biden will veto it.
The OMB argued that short-barreled rifles can be better concealed than long guns while remaining "more dangerous and accurate" than pistols "at a distance." The administration accused gun manufacturers of attempting to circumvent regulations on short-barreled rifles by selling the brace to "convert heavy pistols into short-barreled rifles."
Copyright 2023, RepublicanView.org