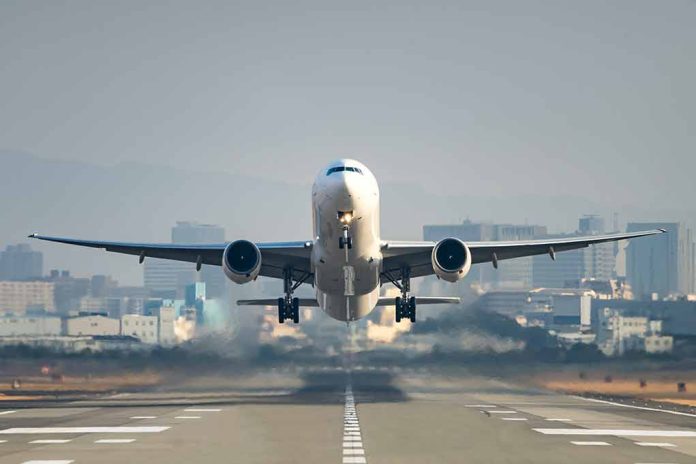 (RepublicanView.org) – Jonathan Dunn, who previously worked as a co-pilot for Delta Airlines, is facing charges for allegedly threatening to kill the captain after the captain considered diverting the flight over a possible medical emergency.
Dunn, who completed the TSA's Federal Flight Deck Officer program that authorized him to carry a firearm on a plane, said that he would shoot the pilot "several times" if he diverted the flight. The TSA's program was instituted to help train pilots to carry safely in case they face a hijacking attempt.
An indictment issued by a grand jury accuses Dunn, an Air Force veteran, of assaulting and interfering with aircraft crew. The charge could mean 20 years in prison. However, the use of a deadly weapon can bump that up to a life sentence. His arraignment is scheduled for November 16th.
The incident, which took place on August 22nd of last year, is being called a likely "one-off" incident by a CBS News senior transportation correspondent. However, it has still led to increased speculation about mental health screenings for pilots and possible restrictions on guns among them. Dunn's employment and authorization to carry a firearm while flying were both revoked after the incident.
Details of the flight path have not been released as the case is still ongoing, but the grand jury indictment was issued in Utah. Dunn is a resident of California. Charging documents for the case remain sealed.
Just days after the indictment, a co-pilot flying as a passenger in the cockpit of a jet bound for San Francisco allegedly attempted to turn off the engines during flight. He then attempted to open an emergency exit door after being detained by flight attendants.
That copilot, 44-year-old Joseph Emerson, later claimed that he was under the influence of "magic mushrooms." He is facing several murder charges and a count of interfering with a flight crew. Emerson expressed regret after the incident.
Copyright 2023, RepublicanView.org