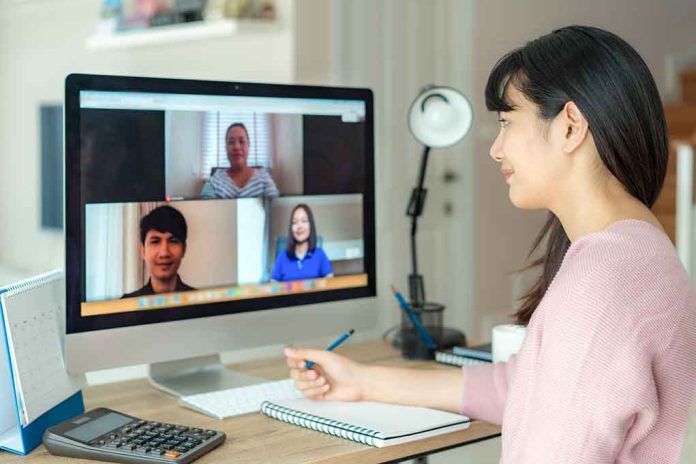 (RepublicanView) – While the remote work trend may have begun because of forced situations, there's been a voluntary movement toward working from anywhere recently, giving rise to a host of virtual jobs that never existed before. Those looking for full-time employment or lucrative side-gigs should seriously consider flexible, remote positions. With a bit of research, finding job possibilities should be a cinch. Let's explore seven virtual jobs that average $20 per hour or more in compensation.
1. Social Media Manager
In some ways, it's fair to think of social media managers as virtual public relations representatives. The public face that most businesses present these days is through web presence. Companies can generate publicity and control public perception through their own websites and judicious use of social media sites like Facebook, Instagram, and Twitter. A social media manager develops and executes a company's online social media strategy with company officers and marketing specialists, producing engaging content, handling customer service through social media, and analyzing usage data. Some may also handle paid social campaign strategies.
Required Skills
Social media familiarity or expertise
SEO knowledge
Research
Copywriting
2. Virtual Assistant
Great administrative assistants can vastly improve company productivity and performance, and there's no reason many can't operate as virtual assistants (VAs). Tasks may include making phone calls, scheduling appointments, making travel arrangements, managing email accounts, providing memos and communications as directed, and coordinating logistics.
Required Skills
Resourcefulness
Communication
Organization
Time management
Basic accounting
3. Online Bookkeeper
Especially for smaller to mid-size businesses, using a virtual bookkeeper makes a lot of sense. Whether bookkeepers are office-based or virtual, the scope of their duties includes managing financial tasks like processing payroll, reconciling credit card accounts, and recording transactions. Cloud-based software allows online bookkeepers to perform these tasks securely and efficiently.
It's important to remember that bookkeepers are not accountants. Bookkeepers record transactions, which are necessary and valuable; Accountants analyze that data and look for trends, provide insights, and prepare reports.
Required Skills
Basic or familiar knowledge of computer software such as Intuit and QuickBooks
Organization skills
Attention to details
Time management
4. Customer Support Agent
Customer support is perhaps one of the jobs we associate most with remote work because it's a job category that companies have outsourced for about two decades. It's a model that's worked well for companies and customers. Customer support agents help clients with various needs, including orders, tracking shipments, billing, and answering questions related to products and services.
Each company's offerings will determine a customer support agent's actual role, but the key is always to provide the best possible experience by supporting the clients' needs and representing the company honorably.
Required Skills
Patience
Empathy
Communication
Adaptability
5. Online Teacher or Tutor
Sharing knowledge can be rewarding in many ways. In this case, people actually receive pay for online teaching or tutoring. Typically, teachers will need at least a Bachelor's degree to teach online, but for those with Master's degrees, the opportunities increase significantly.
Teaching opportunities range from teaching English in line to children overseas to remote teaching at universities or community colleges. Tutor opportunities are almost as bountiful. Generally, the hiring institution or organization will provide the course syllabus or lesson plans and depend on the teachers' educational background, degree, and experience to guide students.
Required Skills
Communication
Time management
Technological literacy
Assessment and evaluation
6. Freelance Writer
As businesses invest in content marketing services, the demand for freelance writers grows. Freelance writers work as independent contractors for individual clients or through agencies for groups or multiple clients. They create using varied writing mediums, including web copy, blogs, emails, newsletters, articles, eBooks, reports, and more.
Required Skills
Research
Creativity
Strong writing skills
Proofreading and editing
7. Proofreader
Proofreaders are in demand in the virtual space. It's a detail-oriented job requiring attention to detail. Proofreaders carefully peruse documents for factual inconsistencies and grammar, formatting, and style errors. They may also read for voice and tone to determine whether the overall flow of the piece reads well. Companies might utilize proofreaders on nearly any sort of project requiring consistency and detail.
Required Skills
Knowledge of spelling, grammar, and punctuation
Attention to detail
Organizational and time management skills
Accuracy
These are just a sampling of the many jobs available in the virtual job market, which is constantly growing. As the space continues to grow, expect to see more remote jobs paying $20 per hour or more. For more resources on virtual jobs, network through communities like Glassdoor, Indeed, and LinkedIn, and discover the best virtual careers on the market.
Copyright 2023, RepublicanView.org