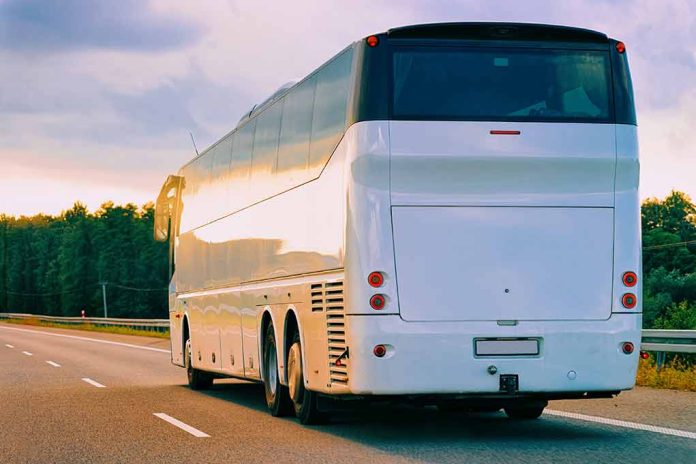 (RepublicanView.org) – A charter bus carrying high school students was involved in a multi-vehicle crash in Ohio last week, leading to the death of six people, three of them teenagers. Dozens of others were injured.
The accident has been deemed a "chain reaction crash" and involved five vehicles, one of which was the charter bus. Two of the other vehicles were commercial transport trucks and the other two were passenger automobiles. Three of the involved vehicles caught fire following the accident.
The charter bus carried 54 students and chaperones from Tuscarawas Valley High School to the Ohio School Boards Association conference, which was being held in the state's capital, Columbus.
Ohio Governor Mike DeWine gave a press briefing on the crash, calling it "our worst nightmare" to have a crash involving a bus full of children. DeWine ordered the flags in Tuscarawas County as well as government buildings in Columbus to be flown at half-staff to honor the victims of the accident.
Jennifer Homendy, the chair of the National Transportation Safety Board, said during a press conference the crash occurred at a traffic queue, but that there are conflicting details about the events that led up to the accident. What is known is that the vehicles involved in the crash were traveling westbound on I-70. The crash occurred in an area where traffic was slowed or halted due to a crash that happened earlier that day.
Though the NTSB will issue a preliminary report in the upcoming weeks that will include the facts of the accident without an analysis, as the final investigation report usually takes a year or longer to be completed.
All of the deceased were involved in the trip, though some of them were in an SUV behind the bus. Two of the students who died were seniors, and one was a 15-year-old sophomore. A teacher as well as two parents also died in the crash.
A vigil was held on Tuesday night for the victims, with six candles being lit in their memory.
Copyright 2023, RepublicanView.org