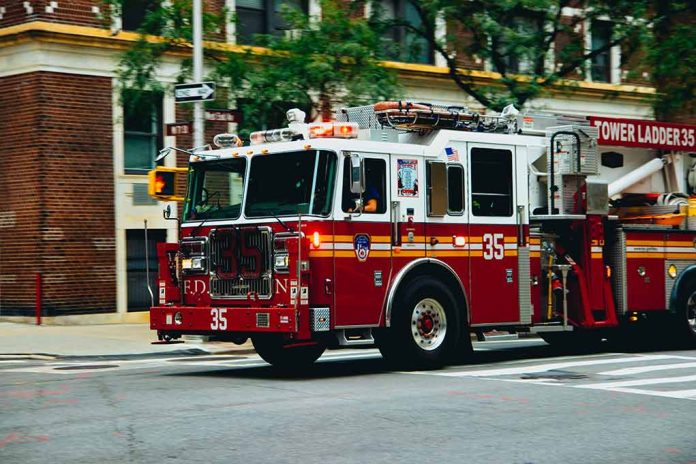 (RepublicanView.org) – A massive apartment fire killed 3 people and injured 15 others in New York City on the morning of Sunday, November 12.
The three-story apartment complex in Brooklyn was already completely engulfed by the time firefighters arrived at about 5am. They were able to rescue 17 people, but three of them later succumbed to their injuries. Two of the victims were men, both 35, and the other was an elderly woman. All three died at the hospital. Some of the survivors were rescued from nearby buildings as the fire's intensity grew.
According to NBCNewYork, John Esposito, Chief of Operations at the New York City Fire Department, referred to the blaze as a "heavy fire." Esposito called it a "very difficult … operation." The department sent triple the average number of firefighters that typically respond to fires. The entire building was destroyed.
Later, firefighters determined that a lithium-ion battery caused the devastating fire. It was found alongside two uncertified electronic scooters. However, the battery had been charging in an outlet close to the doorway before exploding. John Hodgens of the FDNY warned that explosions caused by these and similar devices occur unexpectedly with very little time to escape.
Laura Kavanagh, the department's commissioner, blamed the industry for causing this and similar fires. According to CBS News, she vowed that her department "cannot and we will not stand by" as manufacturers do "nothing." Kavanagh supported a law that bans uncertified batteries and devices from the city. That law went into effect in September.
Statistics on fires from the US Fire Administration indicate that there have been nearly 1,800 home fire deaths in 2023, as well as 74 firefighter deaths. It's been reported that there were 3800 deaths across the US in 2021. More residential fires were caused by cooking that year than every other cause combined.
Human error has also been a leading factor, especially when it comes to fires ignited by portable heaters. They only constitute 3% of residential fires, but caused 41% of fire-related deaths between 2017 and 2019.
Copyright 2023, RepublicanView.org