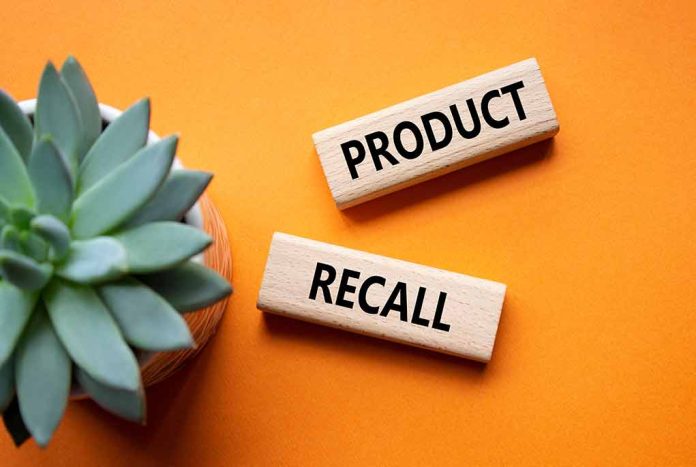 (RepublicanView.org) – Food giant Tyson Foods has recalled nearly 30,000 lbs. of chicken nuggets featuring dinosaur shapes after reports of small metallic pieces being found in the nuggets.
The decision comes after a customer suffered a small oral injury. The victim's details have not been released. So far, only one injury has been reported. However, other customers have found similar metal shavings in their chicken. These incidents resulted in consumers sending complaints to the USDA Food Safety and Inspection Service. Tyson Foods voluntarily issued the recall shortly after.
The recalled packages were shipped to stores in Wisconsin, Alabama, Illinois, Virginia, Tennessee, Ohio, Michigan, and Kentucky. All of the packages were packed at the same US-based plant. Products subject to the recall will show "P-7211" as the establishment number on the back of the package. They were titled "Tyson FULLY COOKED FUN NUGGETS BREADED SHAPED CHICKEN PATTIES." The nuggets are sold fully cooked in packages that are 29 ounces large.
Tyson Foods published a press release urging anyone with a potentially tainted package to cut off the date and UPC codes before calling their hotline, presumably to get a refund. The rest should be discarded as it could be unsafe for any type of consumption. It is unlikely that every package contains the metal shavings, but Tyson is still urging consumers not to eat the chicken nuggets "out of an abundance of caution" for their safety.
The press release states that no other products were tainted. At this time, no one outside of the affected areas has reported any other incidents. According to the statement, the packages were set to expire on September 4, 2024.
The recall comes one year after Tyson Foods had to recall over 100,000 lbs. of ground beef. Those shipments were also tainted with small pieces of metal. In 2019, some of its chicken nuggets were recalled after being tainted with rubber pieces.
Copyright 2023, RepublicanView.org