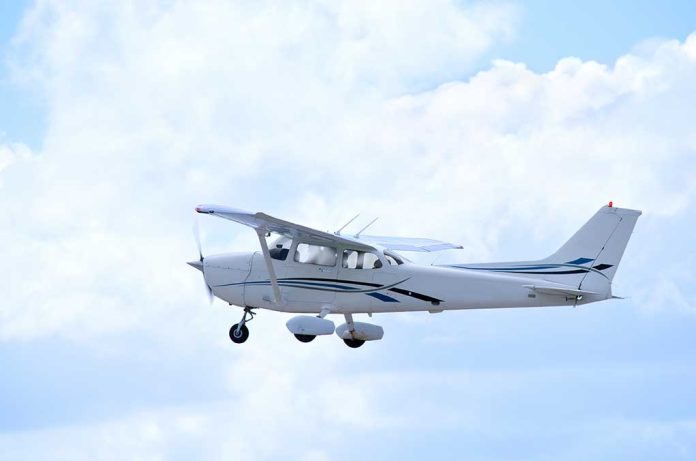 (RepublicanView.org) – A 65-year-old pilot has been arrested for threatening a young girl after spending several years stalking her mother. Micheal Arnold allegedly flew his plane over Cassie Wilusz's New York home several times a week while she cared for her dying husband – sometimes so low that her roof shook.
Wilusz reported the alleged harassment to the Federal Aviation Administration and New York State Police, and he was arrested on five occasions but remained undeterred. Saratoga County Sheriff's deputy Nikki Voegler arrested him again on October 6 after he posted a message on Facebook threatening Wilusz's daughter. "Change your wicked ways, girl. Karma is a wonderful thing, your daughter will be next. You will see them all pass before you," he wrote.
Following his detention, he was arraigned in southern Vermont – where he kept his plane – and charged with aggravated stalking, violating an abuse prevention order, resisting arrest, impeding a public officer, and providing false information to police. The pilot is alleged to have "terrorized" 42-year-old Wilusz since 2019, but he denied all charges and said if he had wanted to harm her, he would have done so. He was released on a $5,000 bond and ordered not to fly his plane.
Ms. Wilusz first met Arnold when he was a regular customer at her café in Schuylerville, NY. The retired Merchant Marine allegedly sent her graphic photos of himself tied up with unclothed women, accompanied by correspondence asking her to "open her mind." She posted a Facebook message to him saying she objected to the photos and requesting that he not contact her again. It was at this point that the stalking began.
The alleged victim told reporters he started following her around, took pictures of her house and posted them online, and threw tomatoes at her from the sky. "I ended up losing my mind and got super scared, and I wouldn't let my daughter out of my sight," she said.
Copyright 2023, RepublicanView.org