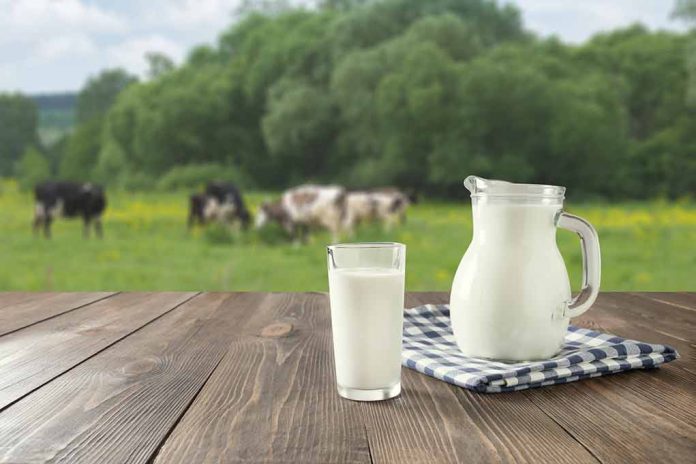 (RepublicanView.org) – An old tweet from the animal rights group PETA that claimed milk was a symbol of white supremacy has gone viral. Initially posted in 2018, the tweet says, "Cow's milk has long been a symbol used by white supremacists. One more reason to Ditch Dairy." The tweet resurfaced on September 8 when a Twitter user shared the post.
A similar tweet from 2017 features a video clip showing white power activists on street marches and describes milk as a "thinly veiled allegory for racial purity." Horrifying clips of animal cruelty follow the statement, but no clear link is established between that cruelty and white people, nor is the cruelty demonstrated as necessary for milk production.
As reported by the Toronto Sun, Twitter user Libby Emmons quote tweeted the 2018 Twitter post on September 8, writing, "Please tell me this isn't real." The quote tweet quickly drew attention, earning over 4 million views and more than 16,000 replies as of September 15. Many users mocked PETA's statement, with one user writing, "Lemme laugh my tears into this bowl of milk I'm having with a glass of milk." Others joked about whether or not chocolate milk was appropriate.
A study reported on this summer showed cow's milk contains nutrients that are absent in soy milk, Almond milk, or most milk substitutes. Epidemiologist Dr. Abigail Johnson said the results suggested that many plant-based substitutes were not "nutritionally equivalent to cow's milk."
The investigation found that of around 233 plant-based alternatives available on the market, only 28 had as much or more protein and calcium as cow's milk, and about half with vitamin D and two thirds calcium to bring them to the level of the animal produce.
Dr. Johnson warned that consumers must remember to read the labels of milk alternatives because they are all very different from each other, and consumers should substitute the nutrients lost by drinking milk alternatives – she recommends a daily intake of vitamin supplements.
Copyright 2023, RepublicanView.org