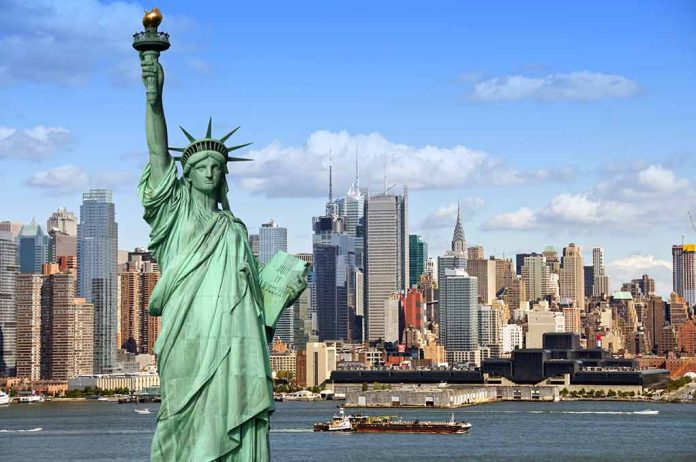 (RepublicanView.org) – New York Mayor Eric Adams said every city in the country should be forced to accept illegal migrants. Adams has complained for months about thousands of immigrants arriving in the Big Apple and said the city does not have the resources to provide for so many. His complaints contradict his previous position that New York is a sanctuary city that would "always" accept immigrants.
Adams told CBS that there are 108,000 towns and cities in America, and with coordination on the southern border, each could be allocated a number of immigrants. He then blamed the Republican Party for creating the crisis, even though Republicans have objected to the open southern border since President Biden entered the White House.
Mayor Adams reacted with fury to the arrival of more than 70,000 migrants to New York over the past year. He said the situation was "destroying" the city and was even removed from Biden's re-election board for his comments.
He is also entangled in legal battles with Upstate Counties, who object to his policy of shipping immigrants out of the city. Adams sent busloads of border crossers to Orange County, prompting officials to apply to the courts for a restraining order.
Scandals emerged revealing that hotels were evicting US military vets and canceling weddings and other significant occasions to accommodate the newly arrived aliens.
New York is not the only "sanctuary city" to complain about being overwhelmed by immigration. Chicago's previous Mayor, Lori Lightfoot, pleaded with southern leaders, including Texas Governor Greg Abbott, to stop sending people to the Windy City because, like Adams, she said she did not have the resources to cope.
However, new Chicago Mayor Brandon Johnson said the city is open, and everyone is welcome. This prompted local people to organize protests and ask why Chicago has funding for thousands of newly arrived immigrants while they continue to struggle.
Under the Biden administration, millions have crossed the border illegally.
Copyright 2023, RepublicanView.org