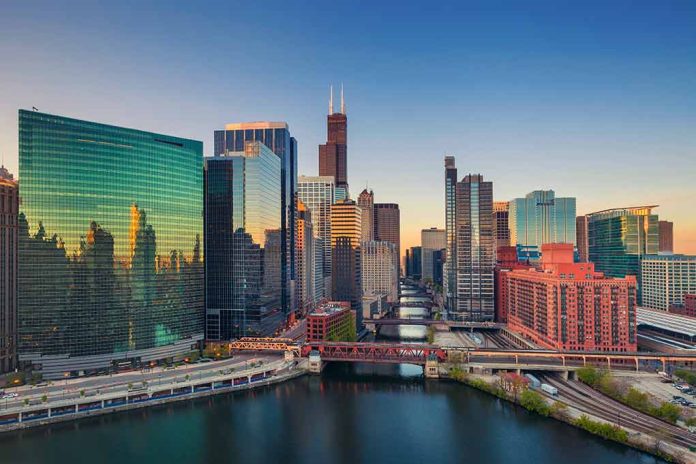 (RepublicanView.org) – Outgoing Chicago Mayor Lori Lightfoot has declared a state of emergency in the Windy City due to high levels of incoming migration. Lightfoot made the declaration on May 9th and said some of the migrants were "inhumanely bussed" to the city by Texas Governor Greg Abbott. The statement also says that more arrivals are expected.
The migration crisis is likely to worsen nationwide as Title 42 expires. This legislation allows for the expulsion of migrants on health grounds without hearing asylum claims, and thousands have gathered at the southern border to enter the US upon its expiration.
Lightfoot added that she is sympathetic to the plight of border cities and states, but Chicago cannot take more as it does not have the resources to do so. The city already uses police stations and other public buildings to house the migrants.
The Mayor was defeated in recent elections and will be replaced by left-wing immigration advocate Brandon Johnson, who said the city should welcome even more migrants. Johnson, whose campaign focused on the "racism" of his opponent Paul Vallas, in April called for illegal immigrants to be allowed to vote.
His policies include allocating housing to "all unhoused," including illegal immigrants. In addition, he said aliens should not be deported from the US unless they commit a serious crime and only if it is safe for them to return. He has also called for illegal migrants to be granted full US citizenship.
Chicago is a "sanctuary city," meaning it has declared itself open to immigration and refuses to work with federal agencies to detain those in the US illegally. Its sanctuary status dates back to the 1980s when churches began offering accommodation to asylum seekers. In 1985, the city's chief legal officer James Montgomery urged local law enforcement not to cooperate with federal immigration agencies. Mayor Harold Washington signed an executive order the same year demanding that job applicants not be asked about their immigration status.
Copyright 2023, RepublicanView.org