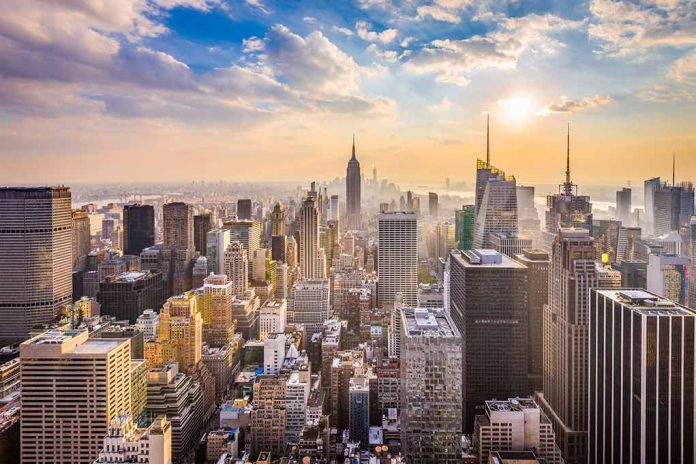 (RepublicanView.org) – Lady Gaga's father is leading a campaign against undocumented immigrants in his New York City neighborhood, according to an exclusive from the New York Post. Joe Germanotta, who lives on the Upper West Side, said the upmarket area is going downhill with prostitution and drug use in the open. Germanotta has lived on West 70th Street for decades and raised his children there. He also owns a local restaurant.
Mr. Germanotta has been gathering testimony from residents and collating records of their concerns, which he hands over to NYPD and local lawmakers. One such concern is the transformation of the local Stratford Arms Hotel, a residence hall for the American Musical and Dramatic Academy located just a block away from Germanotta's home. The hotel has reportedly become filled with migrants in need of shelter.
When officials announced the plans for the hotel, they said it would house "adult families and single women." City Councilmember Gale Brewer said at a board meeting in June, "These asylum seekers are pretty special, so I don't think it will be a problem. But I'm paying attention."
Germanotta said the entire process seemed covert and deliberately kept under the radar. He described it as a "stealth operation," and said the migrants were bussed to the hotel in the middle of the night in an apparent attempt to avoid publicity. He added that he doesn't mind the asylum seekers being there, but he believes it could be "managed" better and that as things stand, they've "basically taken over."
New York grapples with the ever-growing crisis as asylum seekers continue to arrive in the city. The Roosevelt Hotel in Midtown Manhattan has been turned into a "mega-shelter," and shops and restaurants nearby are allegedly losing customers due to the situation.
"It's very bad. It's terrible. It's a bad image for business," said a jewelry store owner near the Roosevelt Hotel, according to The New York Post.
Some Republican politicians in the Big Apple say Mayor Eric Adams' designation of New York as a sanctuary city is entirely to blame.
Copyright 2023, RepublicanView.org