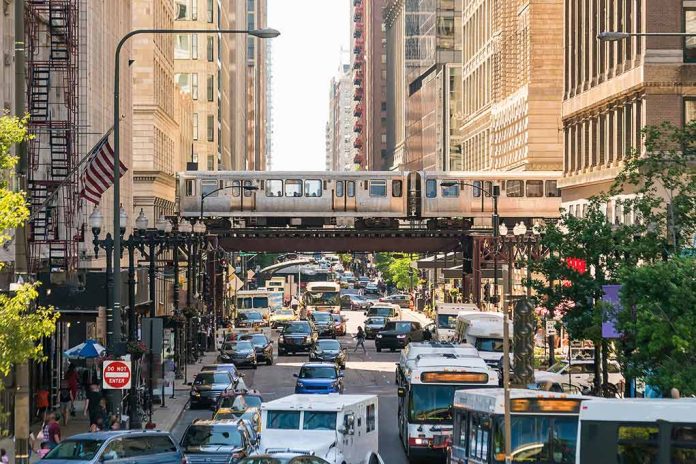 (RepublicanView.org) – New Chicago Mayor Brandon Johnson used his inaugural speech to welcome illegal immigrants to the Windy City despite protests and the declaration of a state of emergency. The left-wing Johnson, who has crusaded for police defunding and ran a highly racialized campaign, said, "We don't want our story to be told that we were unable to house the unhoused or provide safe harbor for those who are seeking refuge." He added that there is enough room for "everyone" in Chicago.
The previous Mayor, Lori Lightfoot, declared a state of emergency only a week previously, saying the city could not cope with the numbers arriving. Lightfoot said Chicago was experiencing a humanitarian crisis as more than 8,000 migrants had come to the city since August 2022. Some of these were sent by Texas Governor Greg Abbott, who will likely repeat the action in light of the new Mayor's welcome of unlimited numbers.
Meanwhile, protests have broken out as local residents object to funding for recently arrived immigrants while Chicagoans go without. Residents of the city's south side gathered to object to migrants being "dumped" in their neighborhoods with no plan in place for housing. One protestor held a sign stating, "Build The Wall."
Some residents have not stopped at protest but have also filed a lawsuit against the city government. The case centers around a proposal to house migrants in an abandoned school on the city's South Shore. The lawsuit seeks an injunction on plans to transform the 7627 S. Constance Ave high school into a "respite" center. It was filed by residents Darnell Jones and Natasha Dunn, who both spoke at a heated community meeting and said leaders have long abandoned them yet can somehow find limitless resources for law-breaking border crossers.
Residents of the South Shore of Chicago tend to vote overwhelmingly for Democrats. In 2020, 97% voted for Joe Biden, who has overseen record levels of illegal migration.
Copyright 2023, RepublicanView.org