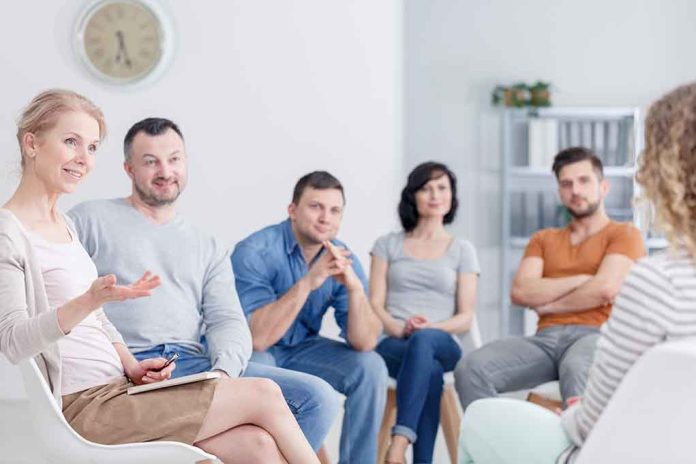 (RepublicanView.org) – Disney is facing more backlash as a video emerges showing a man with a mustache wearing a dress and make-up while welcoming children to a store in California. The recording, which went viral on social media, shows the man introducing himself as Nick, one of the fairy godmother's apprentices, and welcoming a young girl to the Bibbidi Bobbidi Boutique at Disneyland.
The fairy godmother's apprentices were previously known as "fairly godmothers in training," but that name was abandoned because it didn't include people who don't identify as female.
Social media users, including prominent conservatives, called for a boycott. Dave Rubin, host of the Rubin Report, joked that the fairy godmother's apprentice would soon be working for the Biden administration.
Entertainment giant Disney is at war with conservatives – the Republican Governor of Florida in particular. The feud with Ron DeSantis began when Florida passed the Parental Rights in Education Act, which was mischaracterized as anti-gay legislation. Disney said it would put its weight behind a campaign to overturn the laws.
While some in the Republican party have urged Mr. DeSantis to be cautious, particularly in light of Disney's economic impact in the Sunshine State, the Governor insisted he will not back down. At a campaign event in New Hampshire, DeSantis said Disney would be treated like anyone else and pay the same taxes as everyone else. Referring to the self-governing status Disney enjoyed in Florida for decades before DeSantis pulled the plug, the Governor said, "They're not going to govern themselves. We the people are going to govern, and to put one corporation on a pedestal and let them be exempt from the laws is not good policy."
His remarks came days after Disney announced it would not proceed with a project on its Orlando site that would have created more than 2,000 jobs.
Republican Presidential candidate Nikki Haley jabbed at DeSantis when she offered to let Disney come to South Carolina and bring its jobs along.
Copyright 2023, RepublicanView.org