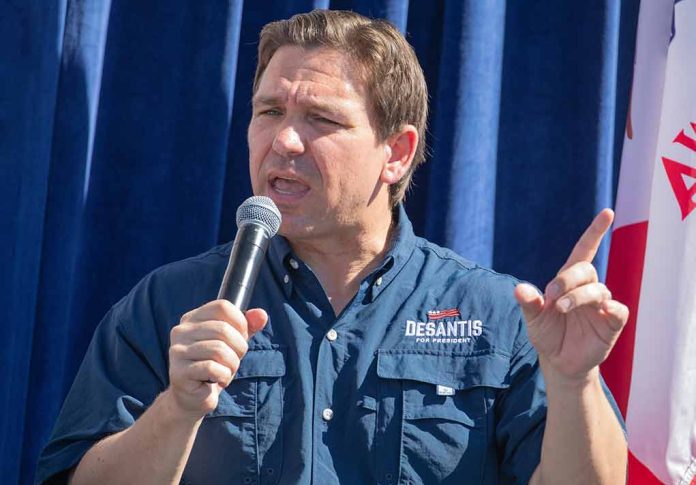 (RepublicanView.org) – Ron DeSantis is placing advertising billboards in Illinois urging police there to move to Florida. The Governor is trying to poach officers from the Prairie State following a series of liberal policy decisions by Democrats. In recent years, Illinois has ended cash bail and allowed non-citizens to join the police. "Citizenship Matters. Law Enforcement Matters! Make the Smart Move to Florida!" say billboards throughout the Chicago area.
The adverts also promote a $5,000 bonus for out-of-state officers joining Sunshine State law enforcement. Governor DeSantis signed off on the bonuses in 2022 and has seen a surge in recruits while most states struggle with low numbers.
In March, the Governor's wife, Casey DeSantis, announced that the Sunshine State had recruited 1,400 law enforcement officers from 44 different states, and all had received their $5,000 bonus. Governor DeSantis said in a statement that his top priority is the protection of citizen's security, "and the best way to do that is by supporting the law enforcement officers who keep our communities safe."
Many states have been struggling with police numbers. In 2021, according to Police Executive Research Forum data, retirements nationwide were up 45%, and resignations were up 18%. Dallas Police Chief Eddie Garcia described it as a "national hiring crisis" at a February meeting in the Texas city.
According to a 2022 report from the Washington Examiner, police in many places have been described as demoralized. In Evanston, Illinois, for example, officials slashed police budgets after the death of George Floyd, and the local force was soon 26 officers short. The detective department in 2022 was only half the size it was in 2019. Police public information officer Ryan Glew said that "the defund movement" negatively affected moral and the ability to keep officers on the force.
In 2021, Illinois became the first US state to eliminate cash bail, which Republicans argue will vastly increase the number of criminals on the streets. In July, House Bill 3751 passed, allowing non-citizens to become cops.
Copyright 2023, RepublicanView.org