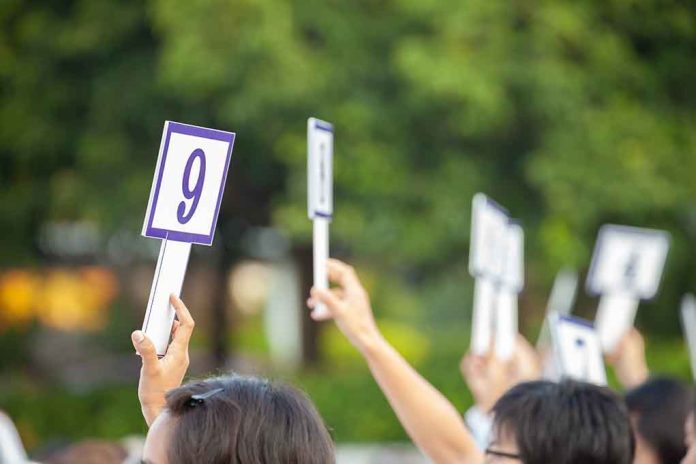 (RepublicanView.org) – If you're struggling financially, you know how hard it can be to afford something you've had your eye on for years — or even something practical like a new car for your work commute — and being without it can set you back even further. Acquiring things like that often takes a combination of a heavy amount of cash on hand and exemplary credit. What options are left (aside from accepting loans with ridiculously high interest rates) if you don't have tons of cash and a great credit score?
One option is the power of bargaining. When you're the one with the money and calling the shots, like at an auction, you have more power than you would if you were buying an item at a fixed price. After all, the one selling the item has to carefully consider whether they'd rather be stuck with the item, or get at least some cash for it.
Because of this, government auctions are potentially affordable ways for you to get whatever it is you want or need.
Multiple government agencies conduct online and live auctions to unload properties. These are open to the general public. Many Americans have been able to get the things they desperately want or need as a result of government auctions.
The government sells items like vehicles, real estate and properties, jewelry, furniture, art, boats, antiques, airplanes, collectibles, and specialized equipment.
The available property varies based upon what happens to be up for auction that day, and which agency you are going through. The government typically sells property because they no longer need items, the items have been seized from criminals, or the items were seized as a result of treasury law violations.
Three major government agencies auction merchandise in the US and its territories. Let's take a look at them.
Auctions by the General Services Administration (GSA)
The GSA is primarily responsible for auctioning general government property, such as boats, construction equipment, scientific equipment, airplanes, industrial equipment, furniture, mobile homes, and more. All of GSA's sales take place online. However, you can conduct an in-person inspection at the auction site prior to placing a bid.
Most notably, if you're in the market for a like-new vehicle, the GSA is reputable for selling good condition, low-mileage vehicles that are ready to drive and obtainable at a great value. Check out the GSA website for more information.
United States Treasury Auctions
The U.S. Treasury holds over 300 auctions annually. These items were obtained by treasury law and tax evasion. They typically list real estate, boats, jewelry, new and used vehicles, and industrial equipment. They conduct auctions online, by mail, and via live auctions in-person.
United States Marshal Service Auctions
Marshal Service auctions include a lot of property seized from criminals. You'll typically find boats, art, airplanes, real estate, jewelry, commercial businesses, antiques, collectibles, memorabilia, and more at these types of auctions.
Third-party companies manage the live and online auctions for the USMS, so each auction can really differ from those you might find through other government agencies. Make sure you visit each third-party website to get accurate information about the auction location and terms.
As you can see, there are many great auction items up for grabs via government auctions. Some of these items are challenging to acquire at such a good price, even in showrooms and stores. If you've got time to wait for the item you want or need, keep an eye on government auctions regularly, and always make sure to note the location of each physical item that holds your interest before bidding.
Copyright 2023, RepublicanView.org