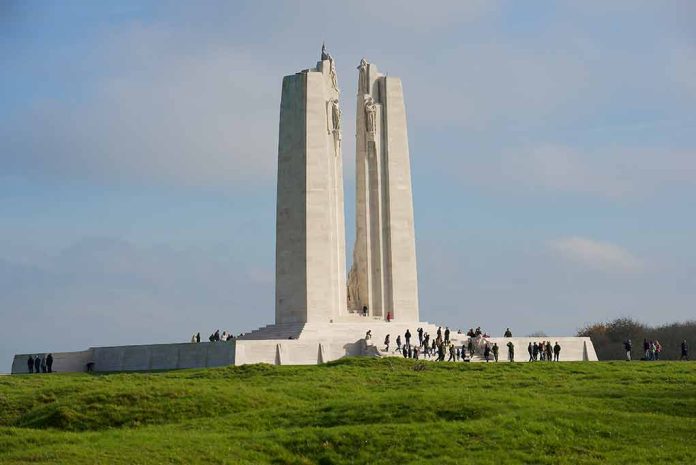 (RepublicanView.org) – A memorial to those who fought and died in World War I has reportedly been vandalized and covered in slogans promoting environmental causes. The Vimy Ridge Canadian World War I monument in France commemorates the dead from one of Canada's significant historic military battles. Fought in April 1917, the Battle of Vimy Ridge saw Canadian troops trounce Germany and gain a significant strategic victory. The memorial, vandalized over the weekend of August 20, was built to commemorate more than 10,000 Canadian troops unaccounted for in France.
In a statement, Canada's Minister of Veteran Affairs Ginette Petitpas Taylor said she is "appalled" by the criminal behavior. She said she condemned "all reprehensible acts of vandalism" targeting symbols meant to commemorate "sacrifices made by Canadians in the name of peace."
The use of fossil fuels has become increasingly controversial as many activists and governments push for a movement toward climate-friendly alternatives. Canadian Prime Minister Justin Trudeau appointed Stephen Guilbeault as Environment Minister back in 2021. Guilbeault was a member of Greenpeace and played a big role in engaging in environmental activism for years, even getting arrested on more than one occasion.
Much environmental activism has taken place in Europe, often causing controversy due to their methods. In the UK and Germany, activists seeking the total cessation of oil usage have been known to cause traffic disruptions. Environmentalists have also vandalized artworks in London, Berlin, and elsewhere.
In London, activists from a group called "Just Stop Oil" threw soup over a painting by Dutch Master Theo Van Gogh last year. Another threw cake at history's most priceless painting, the Mona Lisa in Paris, while in the Netherlands, Johannes Vermeer's "Girl with a Pearl Earring" was likewise vandalized with soup. Due to protective glass, the paintings themselves were not damaged.
Copyright 2023, RepublicanView.org