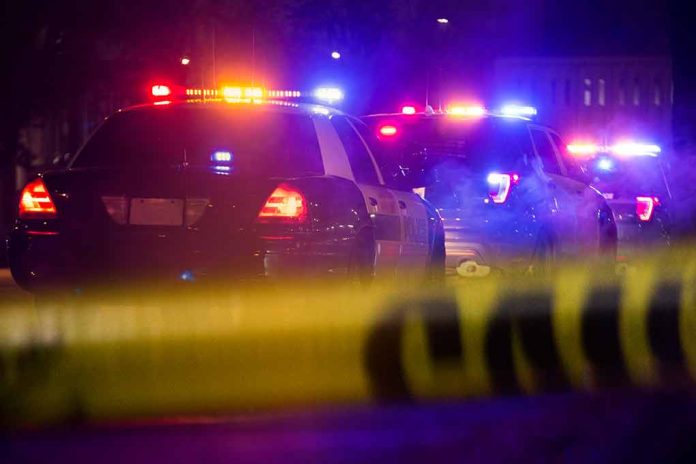 (RepublicanView.org) – A chief of police in Kansas was suspended before resigning after his department raided the home of a local publisher and the office of his small-town newspaper. The reason for the suspension has not been officially announced.
However, news outlets have pointed out that Gideon Cody, who has served as the chief of police since April, was suspended by Mayor David Mayfield on September 28th, weeks after Cody led the controversial raid against Eric Meyer and his mother, Joan, co-owner of The Marion County Record. The disabled elderly mother can be seen in home surveillance attempting to order the police to leave after approaching them with her walker.
She died the following day. Her son blames stress related to the incident for her death.
Police cited a story about a local restaurant owner as the reason for the search, claiming that some information was likely obtained by identity theft. Meyer denied those allegations, stating that the information was given by an unnamed source.
Meyer believes those claims were just a pretense for Cody to raid his home and office after The Marion County Record investigated Cody's law enforcement record. The police chief previously left the Kansas City Police Department shortly before arriving in Marion after sexual harassment allegations.
Mayor Mayfield has expressed concern for his town's reputation following the raid. Multiple conservative and liberal mainstream outlets have condemned the raid as unconstitutional. Many have also called it a violation of the Privacy Protection Act of 1980.
The home of Vice-Mayor Ruth Herbel was also raided in connection with the investigation. Herbel praised Cody's suspension, according to The Daily Mail.
Meyer says that he's touched by the number of people, publications, and even celebrities who have expressed their support. However, he's also expressed concern after local residents have been hesitant to speak with him, citing fears of retaliation.
On Monday, October 2, The New York Times reported that Cody had resigned following his suspension. According to Mayor David Mayfield, the resignation was set to go into effect immediately.
Copyright 2023, RepublicanView.org